Welcome to FDOT's District Five Projects Website
How to Use a Roundabout
Roundabouts are an effective intersection alternative that offer great safety benefits. With additional ones being considered in the Central Florida area, click here to learn more about safely navigating a roundabout. More...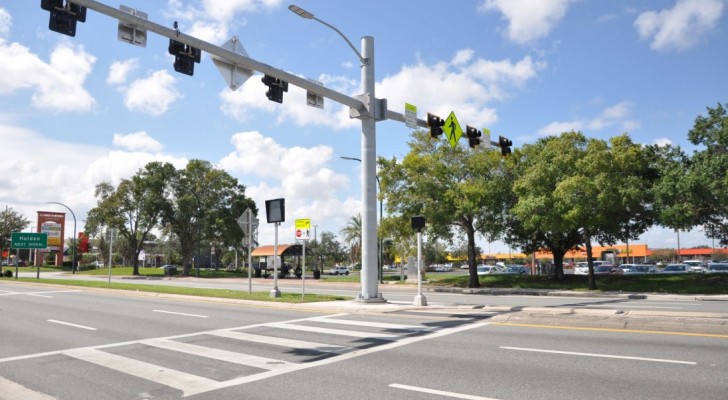 New Signals Help Increase Pedestrian Safety on U.S. 441 in Orlando
Recently, three sets of Pedestrian Hybrid Beacons (PHBs) were activated on South Orange Blossom Trail (U.S. 441) between Holden Avenue and 36th Street in Orlando. PHBs are a special type of signal used to help control traffic and keep pedestrians and bicyclists safe when crossing highways. Click here to learn More...
Honoring Frontline Workers and First Responders
FDOT is proud to show support and honor those individuals on the front lines who are working around the clock to keep us all safe and healthy during the pandemic. Department facilities across the state have been lighting up red, white, and blue, including the gateway feature at the I-95/I-4 interchange in Daytona Beach, as a symbol of our appreciation.
Bridges taking shape on Northeast 36th Avenue in Ocala
Two bridges that will span the CSX rail line across Northeast 36th Avenue and an access road are well under way after crews poured the bridge decks. At completion, the road will be widened from two to four lanes and will feature bicycle lanes and sidewalks. More...
What is a Diverging Diamond Interchange?
A Diverging Diamond Interchange, also known as a DDI, is a new innovative interchange that increases traffic efficiency on heavily traveled roadways. Discover more on how they work at this link. More...
Progress remains steady on Sand Lake Road project
The new eastbound lanes are starting to take shape with the placement of asphalt in the widening area east of International Drive. Additionally, retaining walls are being poured and placed alongside the south side of Sand Lake Road. More...
District Five Service Area